What does an overlocker do?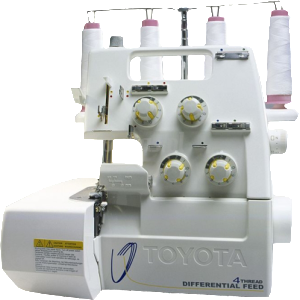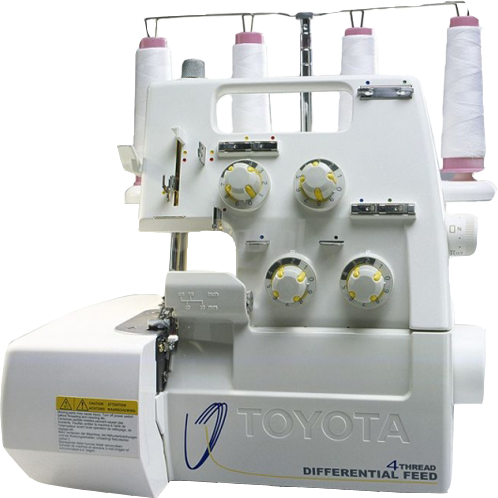 In a nutshell, an overlocker is a sewing machine that stitches with either 3, 4 or 5 threads at the same time. They are mainly used to join seams, trim off the excess fabric and stop the cut edges from fraying all in one simple operation.
Pictured to the right is a Toyota SL3335 Overlocker
.
Take a quick look around you, at the things in your home. I'll bet that almost everything made of fabric will of had an overlocker sewing machine used on it. If you look at the seams on the inside of your shirt or blouse, or inside a cushion cover… even inside ready made lined curtains, you will see an overlocker stitch like this…

As mentioned in our 'How to make a pillowcase' tutorial, using an overlocker will reduce the amount of work involved in producing your finished item. Personally, I have been using the Toyota overlocker pictured above for around six years now. It's my second overlocker and I can definitely say that I have found it an invaluable addition to my workshop.
The versatility of an overlocker:
An overlocker doesn't just trim the edges of your fabric, stop it from fraying and give that professional looking finish to your sewing projects. The design of the stitch pattern makes them useful for other work too.
When you took a look around you, were any of the items made from stretchy fabric – like a t-shirt?
The stitch pattern of an overlocker is designed that it allows for an incredible amount of stretch. Very useful when sewing knitted fabrics like jersey. This in turn, makes overlockers excellent for attaching elastic. Also, depending on make and model, overlocker machines can give you the ability to achieve a variety of fancy edges or hems. For example, the rolled hem on silk dresses, or some net curtains.
But overlockers look so complicated!
Yes… they can look a little scary if you haven't used one before. To be honest, in my opinion, they are not really any more complicated than the modern day domestic sewing machine. Also, in many cases, they come with an Instructional DVD demonstrating everything you need to know. Or if you prefer a good read, there is a range of books available such as:
Ah, yes… sewing with sergers. In the US, overlockers are often referred to as 'Sergers'. The term 'serge' simply means – To overcast the raw edges of a fabric to prevent unraveling.
Is it worth me getting one?
Now that's a good question!… If you only do sewing on the odd occasion, probably not. All domestic sewing machines are capable of a variety of stitches that would suffice. For example the basic zigzag stitch, if sewn close to the edge, would stop your fabric fraying. Of course, you would still need to trim the edges yourself though.
Another option would be, you could get a – Cut & Hem Attachment – apparently, these will fit 'Most' (but not all) domestic sewing machines. I can not vouch for these though as I have never had the opportunity to try one.
On the other hand, if like me, you already do a lot of sewing, or you are intending to do a fair amount of sewing, an overlocker would make a great addition to your work area. Here are a few pros and cons:
Pro's 🙂

Reduces the amount of work involved in producing your finished item.
Gives a professional looking finish to your sewing projects.
Excellent for attaching elastic.
Gives you the ability to achieve a variety of fancy edges or hems.
Saves you precious time.
Con's 🙁
Mistakes can be fatal for the item you are working on (overlockers trim the edge of your fabric as you sew).
Overlockers can be expensive to buy (starting at around £175).
Learning to thread an overlocker and set the correct tensions can prove a little tricky.
If I wanted to buy an overlocker… what should I look for?
The basic features I would suggest are as follows:
At least four threads (they can still be used with only 3 threads).
Adjustable pressure foot.
Two step pressure foot lifter (useful for thicker fabrics).

Adjustable

bite width and stitch length.
Adjustable Differential feed (for lettuce edge – wavy hems, or easy gathering).
Retractable upper knife
And preferably a Free arm (for sewing tubular items)
Which Brands to look for:
I would highly recommend that you go for a reputable brand. Getting a good quality overlocker from the start will definitely save you from problems later on. Bare in mind that you will, at some point, need to purchase spare parts like the cutting blades for example.
If you were to buy a cheap, unknown brand from somewhere like a supermarket, not only will it instantly put you off using one, but it will also prove hard to find the spare parts. You may even have problems finding somewhere to get it serviced.
Over the years, I've had the opportunity to play around with a variety of overlockers from different brands. From my experience, the brands (in no particular order) that stand out are:
Singer (the granddad of sewing machine manufacturers)

Babylock

Husqvarna

Frister Rossmann

Janome (formerly known as New Home)

Elna

Toyota
Brother
Conclusion:
So there you have it – that's what an overlocker is, and the basics of what they can do. That's also about as much advice as I can give. I'll leave you now with a few overlockers available on Amazon that, if I needed a new one, I would take under serious consideration. Follow the links for more details!
Brother 2104D Overlocker



An excellent lower priced overlocker with all the features mentioned above.

Singer Overlock 14SH754 Sewing Machine



The grandad of sewing machine manufacturers. They always make quality machines and this one is no exception! Even comes Pre-threaded for easy start up.

Janome 9300DX Overlocker



Extra features that stood out to me on this one are that the cutting width is adjustable from 2.0 to 5.7 mm. The upper knife can be deactivated for decorative sewing and fun special effects. A built-in rolled hem feature so there is no plate change. The 9300DX also has an extra-high presser foot lifter for thicker fabrics and whisper-quiet operation. (Defiantly worth the extra few pounds!)

Pfaff Hobbylock 2.0 Overlocker



Pfaff, a popular make with the pros! The new Hobbylock 2.0 overlocker is the hobbyists version of a professional machine. It is easy to use and has many practical features, including 15 stitches, adjustable stitch length, built in rolled edge, free-arm for sewing sleeves and legs, electronic speed control, and much more. The Hobbylock 2.0 overlock machine can even sew up to 1300 stitches per minute.

Husqvarna Huskylock S21 Coverstitch Overlocker



If your feeling like you deserve a treat, take a look at the Huskylock 21 coverstitch overlocker. An amazing machine from Husqvarna Viking (another favorite of the pros). This is on ordinary overlocker, it also has settings for Coverstitch and Chainstitch. Other features include: 21 Stitches, Pre-programmed stitch settings, 3mm, 6mm & triple coverstitch and chainstitch Simple conversion from overlock to coverstitches, and even comes with a Free extension table and Instructional DVD. A higher price that the others, but then your getting So much more for your money. Surely worth a look as least!!
Well… that's it… now it's up to you. 🙂