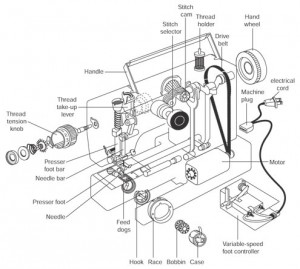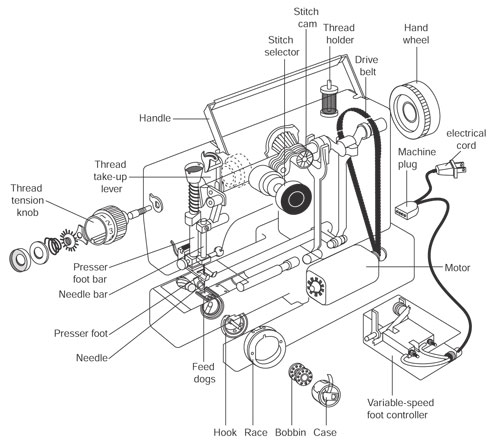 I have recently been approached by a few people asking if I knew anywhere that sells cheap sewing machines. I can't help but ask what they mean by 'cheap'. As you know, everybody has their own idea of the term 'cheap'. An amount that is considered cheap to one, may be thought of as expensive to another.
Personally I would consider cheap sewing machines to be machines that have a retail price of around £80 or less. But really, and more importantly, I would look at the brand name of the manufacturer.
If the sewing machine in question is made by a well know brand such as Janome, Singer or Brother, I would definitely take a closer look at it. However, if the 'cheap sewing machine' I'm looking at has a brand name I've never heard of, I wouldn't waste any more time on it.
Why Cheap sewing machines may not be so cheap.
Over the years in my trade, I have had the unfortunate pleasure of working with/on several miscellaneous named machines. Ones that I classify as cheap sewing machines. From my experiences I have found that not only the price was cheap, but also the quality of build. Below are just some of the things noticed with cheap sewing machines.
Brittle type of plastic used for the outer casing
Rougher aluminium castings forming the main frame
Rougher aluminium castings for the inner workings
Rougher under surface on the stitch plate
Lower quality bearings
Fewer basic features
Does that really sound like something to worry about if you're going to save a heap of money?
Well, when you start sewing, and the lint builds up on the rougher internal components, it's going to cause problems. E.g. the lower foot that moves your fabric (the feed-dogs), won't be able to grip properly. Or as the thread is passed through the stitch plate to meet up with the shuttle hook (part of the bobbin assembly), it doesn't catch properly. Even worse would be that the lint builds up around the rough castings that hold the bearings. This would cause the lint to soak up the oil that lubricates the bearings. That then causing them to run dry and wear out incredibly quickly.
Now some of those problems are easily sorted by removing the bobbin, shuttle, and stitch plate and dusting out with a brush. (I find that this task is required much more often on cheap sewing machines though, when compared to branded sewing machines). Some are not so easy to sort out and require the sewing machine to be dismantled to clean out. That of course would mean Paying to get the machine serviced. (That's if you can find somewhere that would be willing to service an unbranded sewing machine). If the bearings are worn, to be honest, you might as well throw the machine away and buy another one. The chances that the service engineer will be able to get replacements are extremely slim.
Then we come to the basic features… Or lack of them as the case may be.
A couple of features I definitely miss on a many of the cheap sewing machines I've played with would be: The pressure foot 'Extra lift' feature – very useful when sewing thicker fabric or especially when attaching a zip or buttons. Also the ability to move the needle to different positions – left, right or center.
Something to consider when it comes to cheap sewing machines is that it's not just the expense of the more frequent servicing. It's also your time!
Say you're in the middle of shortening curtains and the machine isn't stitching properly. Now you have to start taking the machine apart to try and see why the thread isn't catching. That can easily add an extra 20-30 minuets to your task. Or worse, the thread starts getting caught on the rough underside of the stitch plate. When the machine attempts the next few stitches they all get clumped up in and around the bobbin shuttle. That takes time to sort out and if your sewing with delicate fabric can often damage it.
So how do I avoid all this aggro?
Simple… Buy a sewing machine from a well known brand (manufacturer).
I would just like to say here, that I am only regarding the 'standard' size sewing machines and NOT the 'Mini' sewing machines.
As I mentioned earlier, my idea of cheap sewing machines are machines with a price tag of around £80 or less – unless its made by a well known brand. For example the Brother LS14 is a brand name sewing machine that would fall in to that category of cheap. As far as I can tell though it doesn't have the 'extra lift' feature on the pressure foot 🙁
However if you can up your budget just a little, you would have a much bigger selection of 'Branded' cheap sewing machines to choose from. Here are a few examples…
Brother AE1700 Sewing Machine



17 Stitch sewing machine with reasonable features. Also comes with accessories including Zigzag foot, buttonhole foot, zipper foot, button sewing foot, darning plate, set of needles, spare bobbins, instruction guide and instructional DVD.

Janome 2200XT Sewing Machine



My Favorite manufacturer by far. I have been using this make of machine for the last nine years and the one I have (although a little rattly), is still going strong.
This entry level sewing machine has 22 stitch patterns plus a 4-step button hole and comes with standard accessories.

Janome 2032 sewing machine



The same manufacturer as above 🙂 but a little lower in price. The Janome 2032 has 14 built in stitches, 4-step button hole, Built in light and Convertible free arm. It's capable of Twin needle sewing and comes with Spare needles, bobbins and instruction book etc..

Toyota 15B Super Jeans Sewing Machine



Another excellent make (I have one of their overlockers). This model features a unique gliding foot for sewing over many layers of fabric. 15 stitches with four step buttonhole, top loading bobbin with see through cover, built in automatic needle threader (now that's just cheating 🙂 ), sewing light, thread cutter and converts from free arm to flat bed. Also included is a three year guarantee with access to web site and help line number.

Singer Tradition 2259



An excellent value machine from the Singer Tradition range 19 built-in stitches with 4 step buttonhole, Automatic needle threader plus adjustable stitch length and width. Snap on presser feet to allow for quick changing. The Singer Tradition 2259 even has automatic bobbin winding and embroidery features. Thats not bad considering the low price.
Ok, to some a price tag of £125 may not sound so cheap, but when you add the extra cost of more frequent servicing a cheap sewing machine could require, it's not really that much. In the long run you'll be paying less in maintenance, and saving on time and inconvenience for yourself by buying one of the better quality 'Branded' cheap sewing machines.
Also, I think you'll agree the machines above would have to be regarded as cheap sewing machines when you consider that some can have price tags 4 or 5 times that amount. For instance the Janome TXL607 Sewing Machine which has a price of around £549. Also there is the Brother Innov-is 350SE Sewing Machine with a price tag around £599. Yes, they have a lot more bells and whistles and yes I'd love one of those my self. Then again, if your in a position to say that those last two sound cheap… what are you waiting for? (get the Janome 🙂 ).