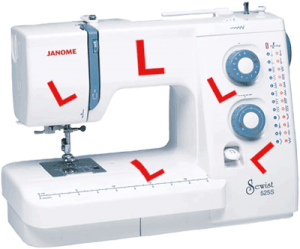 The best beginner sewing machine, in our opinion, would be a sewing machine that is not overly complicated. By that I mean a sewing machine that doesn't necessarily have hundreds of bells and whistles. Like the Brother Innov Is NV550SE for example. – A computerized sewing machine with 429 utility and decorative stitches, 3 lettering styles etc.
No, in our experience, the best beginner sewing machine would have just the basic functions with may be a couple of extras. Yes! we do have our reasons for saying this. –
First, a beginner sewing machine that has hundreds of functions is going to be way more confusing to get to grips with. The more functions a sewing machine has, the more complicated the machine is likely to be.
Second, if you are just starting to learn to sew, you wouldn't need hundreds of different stitch patterns. You need to focus on joining fabric, pattern matching and such. In fact, the vast majority of sewing is done with the basic straight stitch.
Third is the price. The best beginner sewing machine would be one with a reasonable price tag. Sewing isn't for everyone. I'm not trying to put you off, it's just a fact. Not everybody has the time, or the patience for sewing. There are sewing machines out there that, although they are lovely machines, can cost several thousand. The Brother Innov-is I with a current price of £5,999 for example. Imagine you spent just one sixth of that on a sewing machine, then decided that sewing wasn't for you.
So what would be the Best beginner sewing machine?
The best sewing machine for beginners would be one that: (A) has a price tag that is affordable without breaking the bank. (B) is made by a reputable manufacturer like Brother, Janome, Singer, Toyota, etc. And (C) has a reasonable set of basic functions.
During my many years of sewing, the functions I consider to be of importance are those that I use in my every day sewing projects – they are:
Variable length stitch.
Variable width zig-zag stitch.
Button hole stitch.
Three position needle. (left, right,middle)

Snap on presser feet. (to allow for quick changing)

Pressure foot 'extra lift'. (This is

useful when sewing thicker fabric or buttons.)

Free arm feature. (for sewing sleeves etc)
OK, but which actual machine is the best beginner sewing machine?
Well, with the above features in mind, I've had a little rummage around and come up with the following.
Singer Simple 3229 Sewing Machine



Everything you need to get started. 29 Built-In Stitches, Includes 6 Basic, 7 Stretch, 15 Decorative and 1 Automatic 4-Step Buttonhole. Easy Threading. Adjustable Stitch Length & Width. Simple Stitch Selection. Extra High Presser Foot Lifter. When sewing several layers of thick fabric, the presser foot can be raised to a higher position for easy positioning of the work. Free Arm - Provides easy access to cuffs, collars, pant hems and other difficult to reach areas. 4 Snap-On Presser Feet. Includes Intro DVD.

Toyota Deco25 Sewing machine



Built in needle threader. Twin needle sewing. Front loading bobbin. 21 stitch program + 4 twin needle stitches with simple instructions. Includes straight stitches, zigzag, blind hem, mending, overlock, stretch sewing and 4 step auto buttonhole. Features: Free arm sewing. Extra lift pressure foot for thicker fabrics. Adjustable length and width stitches. Full Instructions.

Janome 525S Sewing Machine



Ticks all the right boxes for a robust home sewing machine! - Definitely my favorite manufacturer for quality sewing machines. Features include: 24 Stitch selections. Variable stitch length and width. 1 Step auto sizing buttonhole. Built in needle threader. Adjustable foot pressure. Free arm + storage compartment. Comes with Hard cover and full instructions.
So there you go… That's my pick of a few sewing machines available on Amazon, that I believe would make excellent sewing machines for beginners. For more recommendations and info on buying sewing machines, take a look at our post – Cheap sewing machines – A good thing or bad?