So here we are then – The Final Step of curtain making. Unless that is, you happen to be making Tab-top curtains, in which case, reading this step would be completely pointless.
(If your lost Step 1 is over HERE)
For the rest of you curtain making readers, who are itching to get that curtain tape attached to your almost curtains, grab your cuppa and read on.
Curtain Making with Curtain tape (header tape / Ruflette)
Adding the curtain tape to your almost curtains is relatively simple. In fact, as I mentioned to Laura Here, it is the same process that we use in our guide – How to Shorten Curtains the easy way.
Here are the basic steps:
First, we take one of our almost curtains, fold it in half length ways, and lay it on our flat surface.
Measure along the side from the bottom corner towards the top, put a pin in both edges at your required length.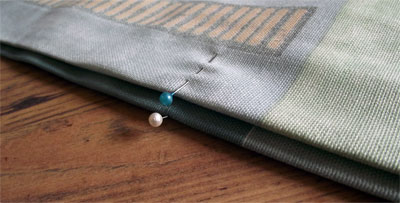 Next, we open out our almost curtain and lay it out flat with the face fabric down.
Fold the top down so that the crease is level with the pins.
Work your way along the crease pinning all the layers of fabric together.
Taking your curtain tape, tuck 1.5 to 2″ between the layers at one end and pin in place.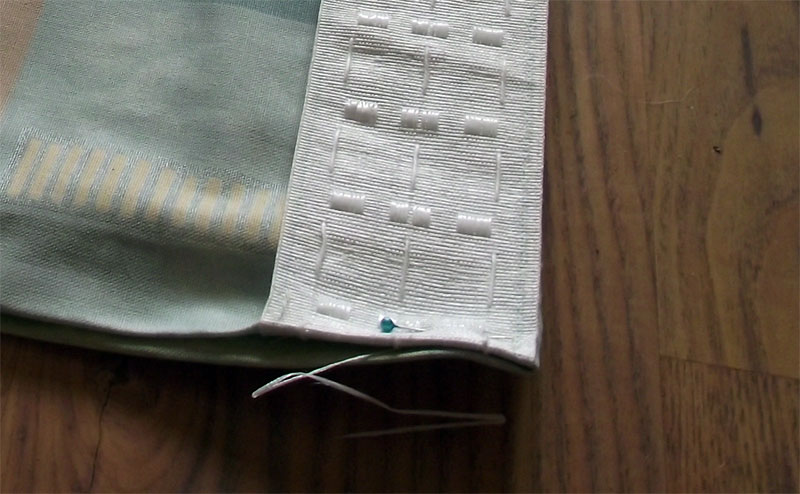 Work your way along the crease, pulling your curtain fabric and curtain tape tight as you go, removing each pin and replacing it to attach the curtain tape. When you reach the other end, trim the curtain tape off allowing 1.5 to 2″ to tuck in as you did at the start.
Sew along the top of the curtain tape about quarter inch in from the edge.
Trim any fabric protruding from the bottom edge of the curtain tape.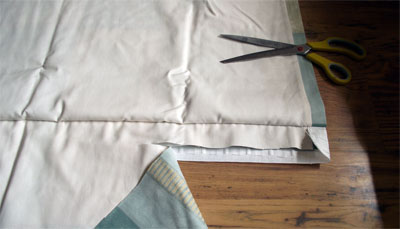 Stitch along the bottom edge of the curtain tape and snip off the excess thread.
Important! – At one end of your curtain tape, pull out the ends of the gather strings and tie them together. Then do the same to the other end.
Optional – Make a cuppa, relax and admire your handy work 😉
That's it! – you've just converted one of your almost curtains in to a fully fledged Curtain… Congratulations!
Now, if you've finished your cuppa, feel free to get on with the other one 🙂