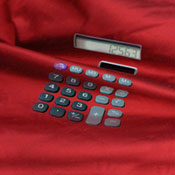 As the title implies, our free to use curtain fabric calculator, will work out how much fabric you need when you make your own curtains. It can also be used to calculate how much fabric you need to make Roman blinds and Roller blinds.
Simply enter your measurements in to boxes and click the calculate button. If you are not sure of what the measurements should be, check out our step by step guide on How to measure for curtains.
New Feature: We are very pleased to announce that the results of our curtain fabric calculator now include the amount of Header Tape / Rufflete required.
NOTE: Our curtain fabric calculator will automatically add 8 inches (20 cms) to each drop of fabric for hem allowances. i.e. 6 inches (15 cms) for the bottom hem and 2 inches (5 cms) for the top hem that's hidden by the header tape.
Curtain Fabric Calculator
Need Fabric..?
Obviously, if you're intending to make your own curtains, you will need some curtain fabric that fits with your style and taste. Terry's Fabrics have an amazing selection to choose from, at very competitive prices. Have a look at the samples below, if nothing takes your fancy, check out their online store for loads more fabrics to choose from.
Q: Why does your fabric calculator add so much bottom hem allowance?
A: We have programmed our curtain fabric calculator to add a six inch (15cm) bottom hem allowance because, when you make your own curtains, you may decide you wish to have a different size hem than the standard two or three inches.
The six inches (15cm) our fabric calculator adds, allows you to make your own curtains with hems of any size up to five and a half inches. Usually, the longer the curtains are, the deeper the hems will be.